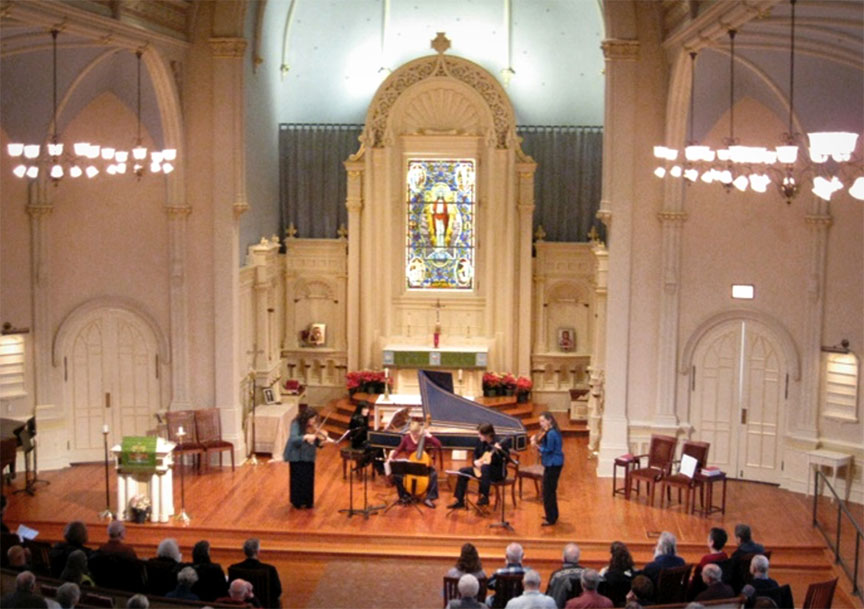 About Ensemble Mirable:
Ensemble Mirable (Mirable – old French, meaning astonishing, strong, powerful) originated in 1996 at Indiana University's Early Music Institute while Ms. Blendulf and Ms. Kim were working toward graduate degrees.
In the summer of 2000, Ensemble Mirable won honorable mention in the second Dorian Group/Early Music America International Recording Competition for their performance of sonatas by Jean Zewalt Triemer. In 2002, they performed to critical acclaim and an enthusiastic audience at the Bloomington Early Music Festival and then followed this rousing success with the award of a Professional Development Grant by Early Music America, announced at the June 2002 Berkeley Early Music Festival.
In 2003/2004 audiences heard them perform on both the San Francisco Early Music Society and San Jose Chamber Music Society concert series. Performances on the Bach Concerti Project at the San Jose Chamber Music Series followed in 2005/2006 and 2007. Most recently, Ensemble Mirable performed a program entitled "Influenza Italiana" on the 2008/2009 SFEMS concert series.
Reviews have described Mirable as "dramatic", "intuitive", "exquisite" and "impressive."  Read a review here.
Here are some ideas on how you can help promote Ensemble Mirable:
*Advertise your business in our program


*Host or sponsor a house concert


*Sponsor a public concert


*Sponsor a guest artist


*Donate frequent flyer miles to help defray travel costs for our guest artists


*Suggest Ensemble Mirable for inclusion on your concert series


*Make a suggestion for where you would like to see Ensemble Mirable perform


*Make a tax deductible contribution to Ensemble Mirable                   



Ensemble Mirable is associated with MusicSources, a non-profit arts organization. Contributions to Ensemble Mirable may be made payable to MusicSources and are tax deductible to the extent permitted by law. If you would like to make a contribution by check, please make your check payable to MusicSources and earmark it for Ensemble Mirable. Send the check to MusicSources info@msucisources.org or call (510) 528-1685.